Announcements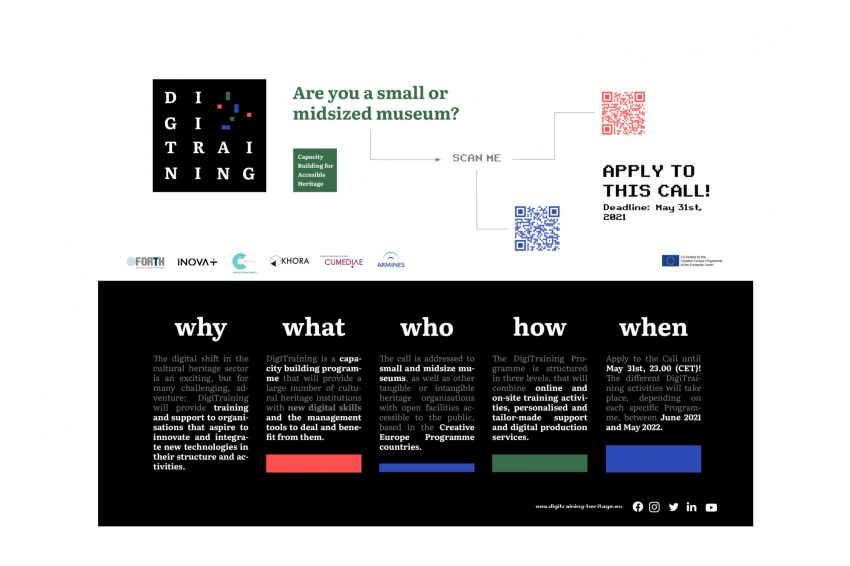 26.04.2021
INVITATION FOR TRAINING ON NEW DIGITAL TOOLS FOR THE PROMOTION OF CULTURAL HERITAGE
The Institute of Computer Science of the Foundation for Research and Technology-Hellas (FORTH) offers museums and cultural heritage organizations the opportunity to acquire the required digital knowledge, and make use of the modern digital tools in order to display their exhibits.
In the framework of the European project "DigiTraining, Digital & Audiovisual Capacity Building for Accessible Heritage" (https://digitraining-heritage.eu/), FORTH invites the competent bodies to take part at no cost in the project's training activities. Experienced professionals from the Consortium will undertake the training of the staff of at least 60 institutions, with the aim of acquiring digital skills, for the optimal promotion of the tangible and intangible aspects of cultural heritage.
The training program will take place between June 2021 and May 2022 and consists of 3 different stages:
In the first stage, around 60 organizations will receive training on digital technology and on digital related management, to improve the experience of their audience and to better confront management challenges including data management.
In the 2nd stage, selected 6 to 8 organizations, after a tailor-made analysis of their needs and capabilities, will be mentored through a specific training program, including in-site visits, resulting in a solid capacitation in digital skills.
Finally, in the 3rd stage 3 selected organizations will collaborate with FORTH, resulting in a virtual reality audiovisual production adapted to the aspects of the intangible and tangible cultural heritage.
The Project is a consortium of six (6) partners, coordinated by the Institute of Computer Science of FORTH and founded by the CREA2020-AG program of the European Union.
Applications are submitted at https://digitraining-heritage.eu/call-for-applications/ until May 31, 2021