Events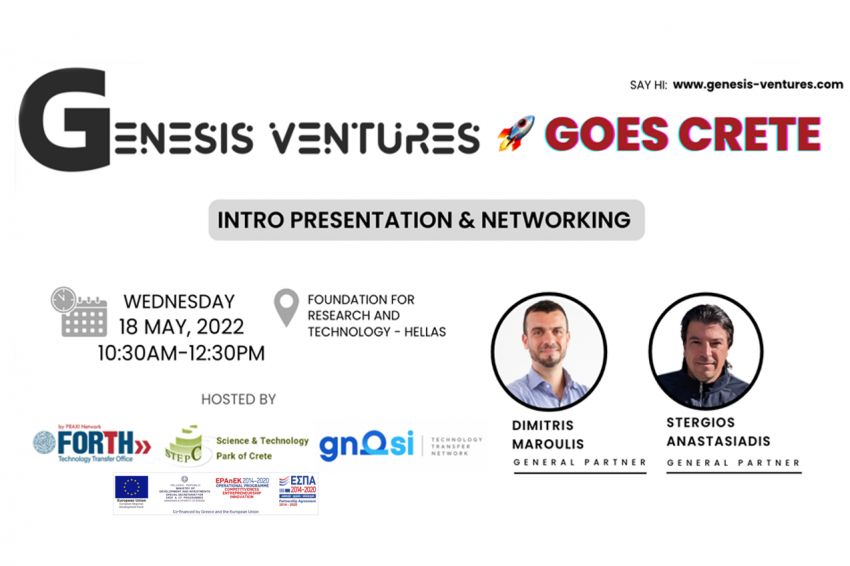 18.05.2022
10:30
Presentation Event of Genesis Ventures Investment Fund
On Wednesday, May 18th, 2022, the Genesis Ventures investment fund presentation event took place in the ecosystem of Heraklion, Crete. The event was co-organized by the Technology Transfer Office of FORTH and the Science and Technology Park of Crete (Step-C). The event addressed the research groups, entrepreneurs and potential entrepreneurs with innovative business ideas.
The Genesis Ventures is a venture capital investment fund that will build, accelerate and finance over 60 innovative companies building the unicorns of tomorrow. It is the first Greek fund that co-finances, with a strong network of business angels, a total capital that will reach €40 million.
The founders of Genesis Ventures, Stergios Anastasiadis and Dimitris Maroulis, are accomplished Greeks from abroad who decided to leave their leadership positions in Canada and Singapore respectively, and return in order to cultivate the pre-seed entrepreneurship ecosystem in Greece.
Genesis Ventures focuses on technology start-ups with highly capable and ambitious founding teams which solve existing and difficult problems and operate in large and growing markets. The investment is made at concept, pre-seed and seed level, with funding ranging from €100,000 to €400,000, and in collaboration with business angels who co-invest with Genesis Ventures in each investment.