Announcements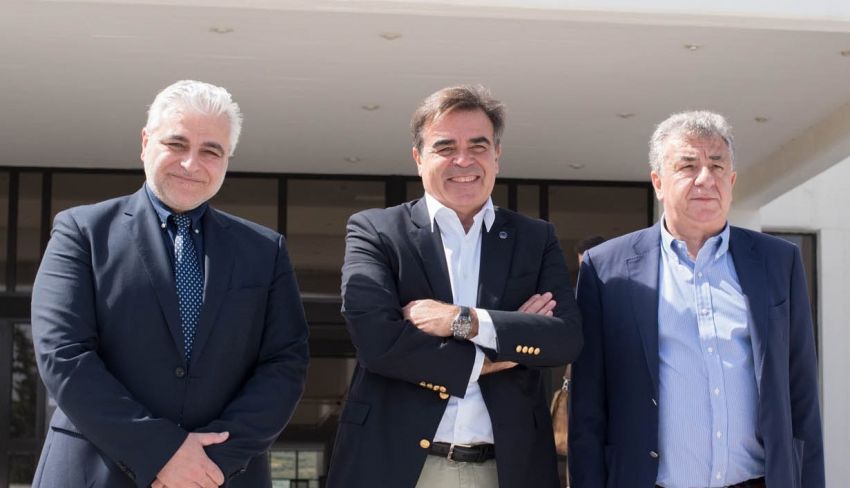 04.10.2022
Mr. Margaritis Schinas, Vice President of the European Commission, visited FORTH
The Vice President of the European Commission, Mr. Margaritis Schinas, visited FORTH on Friday, September 30, 2022. He was informed by the President of FORTH, Prof. Nektarios Tavernarakis, about the activities, achievements and development planning of the Foundation. The Regional Governor of Crete, Mr. Stavros Arnaoutakis, and the Mayor of Heraklion, Mr. Vassilis Lambrinos were also present during the visit.
The Vice President was also informed about the activities of the Science & Technology Park of Crete (STEP-C).
He visited the biotechnology company Enzyquest, a startup of the Institute of Molecular Biology & Biotechnology, and the nanotechnology company Biomimetic, a spin-off of the Institute of Electronic Structure and Laser, which have both been installed within the incubator of STEP-C. He showed particular enthusiasm and interest as he was informed of their progress, starting from the research stage, up to the establishment of the companies, and congratulated the researchers on their success.
The visitors followed a guided tour in the facility hosting the 'Ambient Intelligence Program' of the Institute of Computer Science, a flagship project funded by the European Commission. Demonstrations in the simulation spaces, 'Intelligent Classroom', 'Intelligent Home' and 'Intelligent Greenhouse', gave the visitors the opportunity to experience interaction with intelligent environments and Extended Reality systems. They also visited the pioneering "Accessibility, Usability and User Experience Unit" of the Human-Computer Interaction Laboratory, where user studies and evaluation of ICT applications and services are conducted, based on the principles of 'Human-Centered Design' and 'Universal Access' that the Laboratory is promoting. Finally, the visitors were briefed about the technologies and systems developed in currently running projects funded by the European Commission. In particular, the DARLENE project was demonstrated, in the context of which a wearable system integrating Artificial Intelligence and Augmented Reality technologies assists European Law Enforcement Officers in their fight against crime and terrorism.
| | |
| --- | --- |
| | |
| | |