Events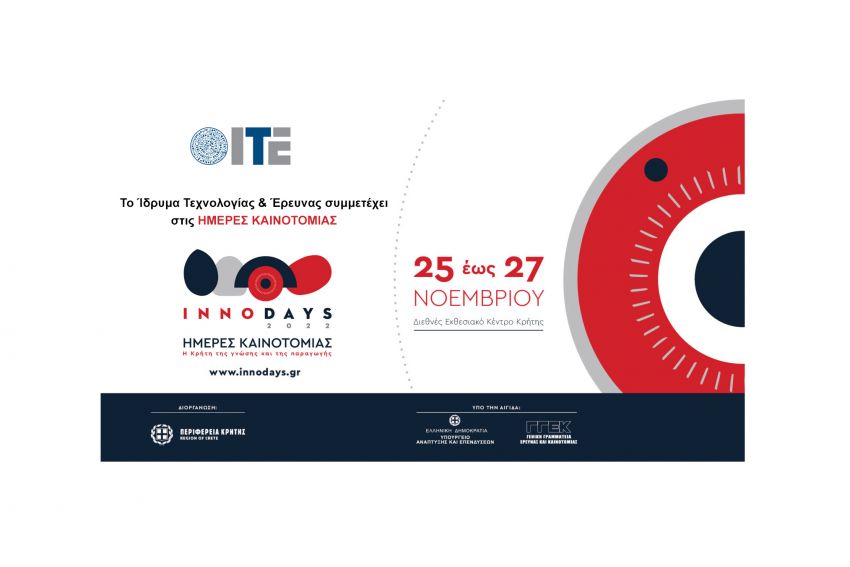 25.11.2022 - 27.11.2022
Participation of FORTH in the Innovation Exhibition "Innodays 2022"
FORTH participated in the Innovation Exhibition "Innodays 2022" organized by the Region of Crete on November 25-27, at the International Exhibition Center of Crete, with cutting edge innovative exhibits, speeches and participation in panel discussions.
Speeches & Panel Discussions
On Saturday November 26, Prof. Dimitris Plexousakis, FORTH ICS Director moderated the Panel Discussion on the topic "The digital and technological transformation of businesses - Planning strategies for the new era". Evangelos Sakkalis, ICS Research Director and CEO of the Traqbeat start-up company (FORTH's spin out), participated in the panel.
On Sunday, November 27, Prof. Spiros Anastasiadis, IESL Director gave a speech on "Education, Research, Innovation and Entrepreneurship".
Dr Dimitris Koutsioulis, CEO of Enzyquest (FORTH's spin out) gave a speech on the topic: "From Research Bench to Innovative Entrepreneurship".
Dr George Papamichail, Director of the Science and Technology Park of Crete, moderated the discussion panel "Incubation and support mechanisms for innovative businesses". Dr Maria Makridaki, Head of the Technology Transfer Office of the PRAXI Network, participated in the panel.
Several impressive exhibits were presented by the Institutes of Computer Science, Electronic Structure and Laser, Molecular Biology and Biotechnology, Applied and Computational Mathematics, Mediterranean Studies, Geonergy, Biomedical Research, PRAXI network, Science & Technology Park of Crete, and GNΩSI Network.