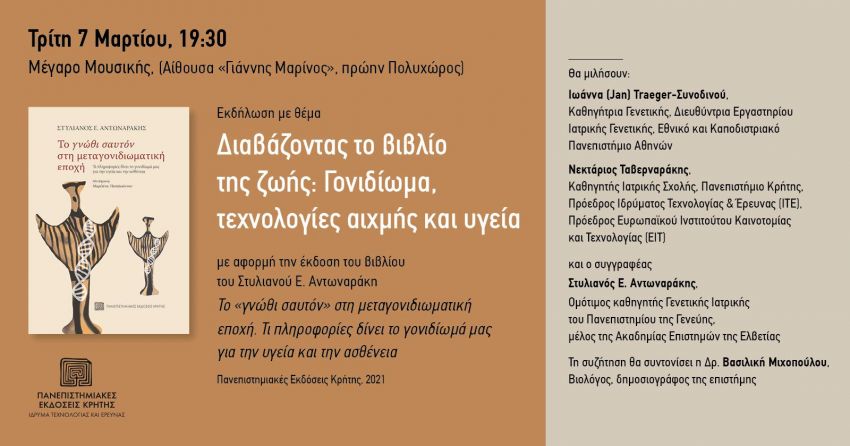 07.03.2023
Reading the Book of Life: Genome, State-of-the-Art Technologies and Health
On Tuesday, March 7, at 19:30, at "Giannis Marinos" Hall (former multi-purpose hall) of The Concert Hall, Crete University Press organized the talk entitled "Reading the Book of Life: Genome, State-of-the-Art Technologies and Health", on the occasion of the publication of the book of Stylianos E. Antonarakis, "Know Thyself in the Post-Genomic Era".
The speakers were the following:
Ioanna (Jan) Traeger-Synodinou, Professor of Genetics, director of the Medical Genetics Laboratory, National and Kapodistrian University of Athens
Nektarios Tavernarakis, Professor of Medicine, University of Crete, president of the Foundation for Research and Technology (ITE), president of the European Institute of Innovation and Technology (EIT)
and the writer Stylianos E. Antonarakis, Professor Emeritus of Genetic Medicine, University of Geneva, member of the Swiss Academy of Sciences
The discussion was moderated by Dr. Vasiliki Michopoulou, biologist and science journalist.
Ioanna (Jan) Traeger-Synodinou talked about the sequencing of the human genome by the Human Genome Project, which renewed the scientific means for constant evolution in the areas of disease prognosis and diagnosis. She extensively commented on the use of new technologies in prenatal testing and the value of their future integration into medical practice.
Nektarios Tavernarakis highlighted the need for intensive genetics research that will benefit not only the field of medicine but also other study fields due to genomic interactions with dynamic social phenomena. He continued to illustrate the development of state-of-the-art techniques in genome research and how they contribute to personalized medicine and ancient DNA research, among others.
Stylianos E. Antonarakis, drawing on daily life examples, explained what we mean by genome structure, mutations that form the variability encountered in nature, and the genetic basis that unites the human race. Particularly, he discussed the capabilities provided by new research means for diagnostics and medical practice.